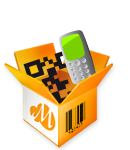 Introduction
The Business model to implement "Track and Trace" in a company is very obvious. On the one hand, the mobile scan is the only feasible solution to ensure the capture of events. With the 2D Datamatrix technology for Track & Trace, it is the implementation of a mobile aplication the only way to ensure that the producs ID are scanned as they advance through the supply chain. On the other hand, the mobile phones, smartphones or PDA are perfect devices to use in order to identify producs (they are always carried, they have mobile cameras that can work as bar code scanners and can be connected to your SAP system through GPRS, 3G or WiFi).
Movilizer covers both aspects, offering a solution to scan any kind of Track & Trace event (against SAP REA, EM SAP or SAP AII) and verifying the producs ID (SAP against REA).
Download here the Solution´s Brochure
Functionalities

Pack – Capture of packing events

Unpack – Capture of unpacking events

Send / Receive– Capture of sent and received events

Decommissioning – Capture of destruction events

Verifying of ID products

Benefits

It is very simple and very cost effective:

Therefore, it can be installed in external employees.
It works in any mobile phone (even the simplest ones).
It is installed in seconds (the device configuration can be done by the

end user).

It requires minimum training for the end user.
It is implemented within days or weeks and you can do it yourself, you do not need

external consultants.

It has no license costs.
The service cost accumulates every month (SaaS)
You could control 100% of your future changes and improvements in the application.

It is the most flexible application for mobile devices:

It is independent from the device.
It is being set up instead of being developed (Movilizer is parameterized in SPRO)
It allows change of processes in the application "on the fly".
You can integrate information of several applications (SAP o no SAP) in the

mobile terminal.

Integration:

Integration of multiple systems and solutions through the Movilizer cloud

(with SAP AII, SAP ERP or non SAP systems)

Integration with other mobile applications in the device, such as

mobile solutions for DSD or WM.

Develop only needed in the backend systems (e.g. ABAP/4)

Costs

Few requirements in the training of end users.
The mobile hardware can be reused.
It does not require servers, or knowledge on middleware for mobile.
Without prior investment, only pay for use.
Short and increasing development cycles.